Research Data Management with PHAIDRA-Services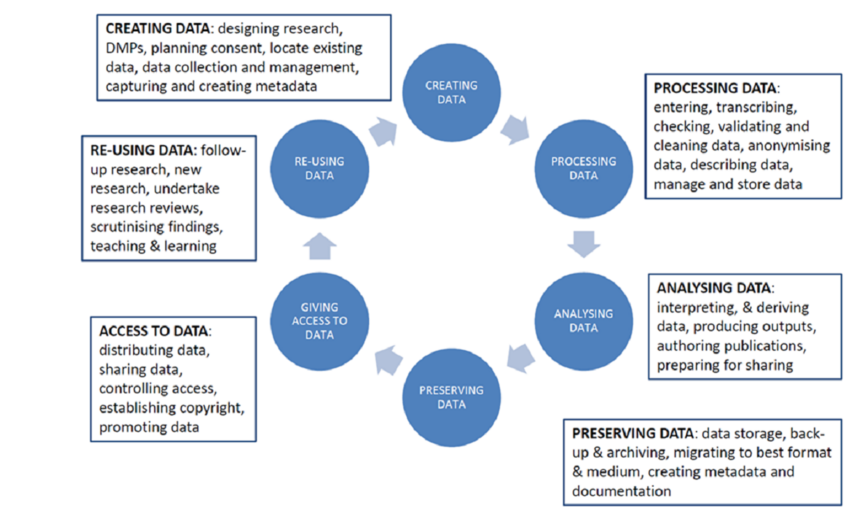 Research Data Management with PHAIDRA-Services
The PHAIDRA systems are designed to accompany research workflow from different professional backgrounds. The so called data management plan, which is already required by many promoters and which specifies how the data is used, generated or handled, can be stored in PHAIDRA for long-term storage. Our entire work process with research data follows the FAIR Data Principles (q.v. Turning FAIR into Reality. Final Report. European Commission, 2018).
RDM Policy University of Vienna

What is research data?
Research data refers to (digital) data which, depending on the unique scientific context, is the subject of a research process therefore generated during a research process or as its result (see Kindling and Schirmbacher: "The Digital Research World" as a subject of research. Information: Science and Practice, 2013 .). Research data is generated using a variety of methods depending on a research question. By source research, experiments, measurements, descriptions, or surveys. This results in a disciplinary and project-specific understanding of research data with divergent requirements for processing and administration. Since research data is necessary to be able to verify the resulting research results, their receipt is a recognized part of good scientific practice (see website Research Data).
More options at the University of Vienna
At the University of Vienna, there are several services available: on one hand for the storage of data during your research process and on the other the long-term availability of the data after completing a research project.

Storing at the University of Vienna
Archiving and Publishing Research Output at the University of Vienna:
PHAIDRA (repository with long-term availability, data is permanently linked and can not be deleted)
UNIDAM (repository mainly for images in context of teaching and resarch. data can be deleted)
u: scholar (Institutional Repository, dissemination of peer-reviewed materials, long-term preservation in PHAIDRA)
u: cris (database for research documentation)
Core Facility AUSSDA - The Austrian Social Science Data Archive
GitLab (repository for software)

Articles and Materials
EOSC Support Office Austria (2023): Visions, needs and requirements for research data and practices. An interview with Wolfgang Kraus.
EOSC Support Office Austria (2023): Visions, needs and requirements for research data and practices. An interview with Maria Schreiber.
Unger, Hella von (2021): Ethical Reflexivity as Research Practice. Historical Social Research, 46/2.
Research Data Curation and Management Bibliography (2021)
The FAIR principles explained (Video, 2 Min.)
FAIR Principles in RDM in a video of the Arctic University of Norway (17 Minutes) - your metadata: findable, accessible, interoperable and re-usable.
EOSC-Pillar RDM Training and Support Catalogue
Current Practices in Research Data Management and Sharing (2020)
Wiki about research data and its Administration Forschungsdaten.org
DANS Data Game - playfully enter the world of research data
COAR Materials for Repository Management (Statements, Guidelines, Reports)
Science Europe (2018): Practical Guide to the International Alignment of Research Data Management.
Simms, Stephanie; Jones, Sarah; Rake, Daniel; Miksa, Tomasz (2017): Machine-actionable data management plans (maDMPs). Research Ideas and Outcomes 3: e13086.
DMP Common Standards WG. RDA - Research Data Alliance.
FAQs to Research Data Management (by OpenAIRE)
FAQ of the European Open Science Cloud EOSC
Helbig, Kerstin, et al. (2019): Lösungen und Leitfäden für das institutionelle Forschungsdatenmanagement. o-bib, Bd. 6 Nr. 3 (2019).
Clare, Connie, et al. (2019): Engaging Researchers with Data Management: The Cookbook. OpenBook Publishers.
LIBREAS #36 (2019): Nachhaltigkeit von Forschungsinfrastrukturen