Research Data Management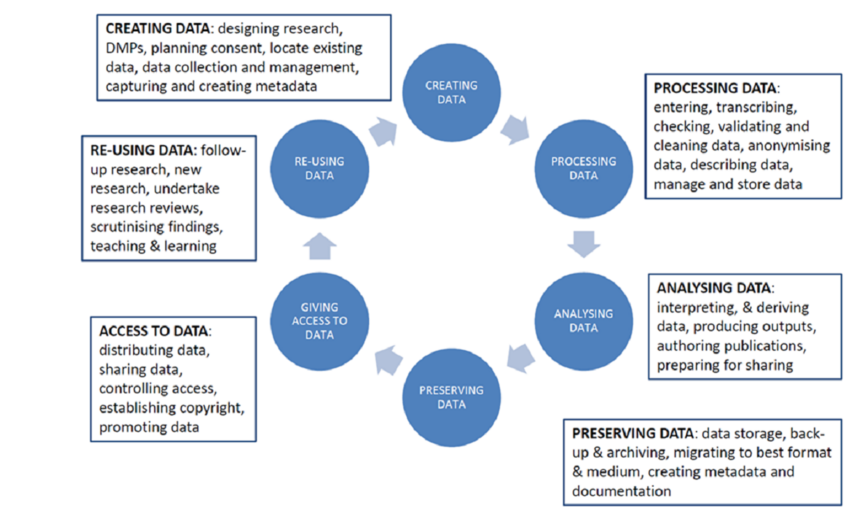 Research Data Management
The PHAIDRA UNIDAM systems are designed to accompany research workflow from different professional backgrounds. The so called data management plan, which is already required by many promoters and which specifies how the data is used, generated or handled, can be stored in PHAIDRA for long-term storage. Our entire work process with research data follows the FAIR Data Principles.

What is research data?
Research data refers to (digital) data which, depending on the unique scientific context, is the subject of a research process therefore generated during a research process or as its result (see Kindling and Schirmbacher: "The Digital Research World" as a subject of research. Information: Science and Practice, 2013 .). Research data is generated using a variety of methods depending on a research question. By source research, experiments, measurements, descriptions, or surveys. This results in a disciplinary and project-specific understanding of research data with divergent requirements for processing and administration. Since research data is necessary to be able to verify the resulting research results, their receipt is a recognized part of good scientific practice (see website Research Data).

How can we help you?
If you have any questions about your data management plan (contact DMP consulting), saving and/or archiving your research data, we would be happy to help you, please contact us: phaidra@univie.ac.at
When creating the project application

we support

the conception of the data management plan
technical questions (together with the ZID of the University of Vienna)
questions about formats
questions about metadata and metadata schemas
contacting a lawyer, if desired

In the current project phase

we accompany

the management of the data
the choice of a storage system during the project period
arrangements for the long-term availability of the data
the upload of the data (together with the ZID of the University of Vienna)
the choice of suitable licenses

After the project

we offer

permanent links for your data and publications (automatic handle, on request DOI)
possibilities of linking your data and publications
different access rights to your data and publications
visualization options for your data
global visibility on your research output, if desired


More options at the University of Vienna
At the University of Vienna, there are several services available: on one hand for the storage of data during your research process and on the other the long-term availability of the data after completing a research project.

Storing at the University of Vienna:
Archiving and Publishing Research Output at the University of Vienna:
PHAIDRA (repository with long-term availability, data is permanently linked and can not be deleted)
UNIDAM (repository mainly for images in context of teaching and resarch. data can be deleted)
u: scholar (Institutional Repository, dissemination of peer-reviewed materials, long-term preservation in PHAIDRA)
u: cris (database for research documentation)
Core Facility AUSSDA - The Austrian Social Science Data Archive
GitHub (repository for software, test operation)

Further Resources
Recommended tools:
DMPTool University of California Curation Center of the California Digital Library
DMP Online Digital Curation Center (DCC)
Templates for data management plans in PHAIDRA
Wiki about research data and its Administration Forschungsdaten.org
Articles and Materials:
COAR Materials for Repository Management (Statements, Guidelines, Reports)
Science Europe (2018): Practical Guide to the International Alignment of Research Data Management.
Simms, Stephanie; Jones, Sarah; Rake, Daniel; Miksa, Tomasz (2017):Machine-actionable data management plans (maDMPs). Research Ideas and Outcomes 3: e13086.
DMP Common Standards WG. RDA - Research Data Alliance.